Our team of cardiologists has expertise assessing and treating a broad range of heart and vascular conditions. Depending on your diagnosis, your cardiologist may refer you to one of our dedicated subspecialty teams that focuses on the area of need, such as arrhythmia, peripheral arterial disease, congestive heart failure, heart attack, pulmonary hypertension, coronary artery disease, or valvular heart disease. The ability to provide highly specialized, coordinated cardiovascular disease care within our practice sets us apart and improves the experience and outcomes of our patients.
We also believe in building a care team that involves patients, family members, and referring physicians. We aim for shared decision making in the treatment of your heart condition, and this starts with heart health education. Explore our conditions index below to learn about many of the conditions we treat.
Anatomy of the Heart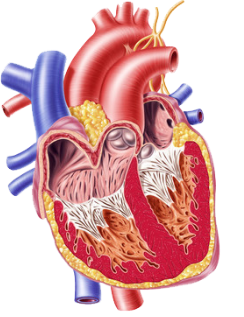 The heart is a muscular organ made up of four chambers: the right and left atria (upper chambers) and the right and left ventricles (lower chambers). The right and left sides of the heart are separated by a wall called the septum, and the heart is enveloped in a membrane called the pericardium.
Blood in the human body circulates — it flows in a circle. Oxygenated blood (blood carrying oxygen) leaves the lungs and passes into the left atrium, which acts as a sort of reservoir. When the left ventricle is ready, the mitral valve opens and blood from the left atrium fills the left ventricle. The left heart then squeezes, the aortic valve opens, and the blood flows from the left ventricle into the aorta — which supplies blood to the body. After the body takes up oxygen from the blood, the blood flows via the veins into the right atrium, across the tricuspid valve, and into the right ventricle. The right heart squeezes, and the blood flows across the pulmonic valve into the lungs to pick up more oxygen. It then flows back to the left side of the heart, thereby completing the "circle."

The heart also has an electrical system to coordinate the pumping. The electrical system has two nodes which coordinate the electrical activity: The sinoatrial (SA) node, which is in the upper right side of the heart, is responsible for setting the pace of the heartbeat by making the atria contract. The atrioventricular (AV) node, which is in the lower right side of the heart, receives a slightly delayed electrical signal from the SA node, making the ventricles contract once they have filled with blood from the atria. When these nodes fail, a pacemaker is often needed.

Heart disease may occur due to problems with the heart's valves, the electrical signals sent and processed by the heart's nodes, blockages in the arteries, or diseases affecting the heart muscle itself. Cardiology Associates of Schenectady has specialists and subspecialists to address all of these concerns.