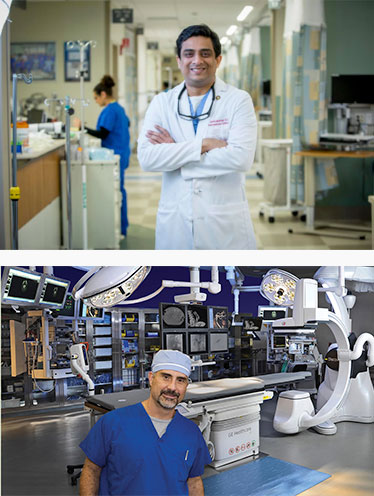 Click here for COVID-19 Appointment Guidelines
Cardiology Associates of Schenectady has developed a set of comprehensive interventional cardiology, electrophysiology, cardiac surgery, and structural heart disease programs with state-of-the-art equipment and subspecialists in each field. You can expect a personalized long term doctor-patient relationship with a cardiologist who will guide you through your treatment. We believe that the depth of our experience, the quality of our care, and our personalized touch set us apart from our peers.
We understand how important it is for patients and families to have a committed heart care team. We provide that support every step of the way, while providing the highest quality coordinated care. This includes:
Initial evaluation with your cardiologist
Any testing that the doctor orders to better understand your heart health
Preventative cardiology care
Ongoing follow-up
Treatment with medication
Minimally invasive cardiology procedures or heart surgeries
Post-operative or post-procedural care
---
Our Advanced Heart Procedure Programs
Cardiology Associates of Schenectady is home to seven advanced cardiac treatment programs that focus on a comprehensive approach to complex cardiovascular conditions.
Transcatheter Aortic Valve Replacement (TAVR) Program
Transcatheter aortic valve replacement (TAVR) is a minimally invasive treatment for aortic valve stenosis. In this procedure, a catheter is used to insert an artificial valve into the aortic valve opening without removing the natural valve. This state-of-the-art procedure often carries less risk than traditional open heart valve replacement surgery.
How TAVR Works: Watch the Videos
Chronic Total Occlusion (CTO) Program
We offer the region's only advanced coronary (CTO) program, with expertise in techniques unavailable elsewhere in the region. To treat chronic total occlusion, or full obstruction of one of the coronary arteries or the heart, our team uses advanced percutaneous coronary intervention (PCI) techniques to create space in the artery and restore blood flow. This is a specialized type of coronary stenting procedure.
Hemodynamic Support Program
We offer a full set of hemodynamic support procedures for patients with acute shock or high risk patients undergoing a percutaneous coronary intervention (PCI) procedures. This includes Impella left ventricular assist device (LVAD), TandemHeart LVAD, and intra-aortic balloon pump (IABP) implantation, as well as extracorporeal membrane oxygenation (ECMO) life support. These are advanced techniques not available at most cardiac centers. We are also involved with the National Cardiogenic Shock Initiative's shock registry, an effort to continuously evaluate mechanical circulatory support treatment for patients with cardiogenic shock.
Pulmonary Embolism Response Team (PERT) Program
Our pulmonary embolism response team program's mission is to provide swift, multidisciplinary, coordinated, state-of-the-art emergency care for patients with a pulmonary embolism. Cardiology Associates of Schenectady is a founding member of the nationwide PERT Consortium and the first practice in the region with coordinated care for pulmonary embolism and deep vein thrombosis (DVT). Our multidisciplinary team is composed of pulmonology, cardiology, radiology, and cardiothoracic surgery specialists. When appropriate, the team employs advanced pulmonary embolism treatment devices including the Penumbra and EKOS catheter-assisted clot removal systems.
WATCHMAN Program
The implantable WATCHMAN device is an alternative to continuous treatment with anticoagulant medication for patients with atrial fibrillation. Our team offers a coordinated approach to atrial fibrillation treatment as well as WATCHMAN device implantation and follow-up.
How WATCHMAN Works: Watch the Videos
MITRACLIP Program
The MITRACLIP device is implanted using a catheter to repair mitral regurgitation. Mitral regurgitation (a mitral valve that leaks) can cause shortness of breath and heart failure. This procedure offers new hope to patients with heart failure due to mitral valve disease who are not good candidates for heart surgery.
Septal Defect Closure Program
Our Septal Defect Closure Program provides comprehensive assessment and treatment of ventricular septal defects (VSD, or a congenital opening between the lower chambers of the heart), atrial septal defect (ASD, or a congenital opening between the upper chambers of the heart), and patent foramen ovale (PFO, or when the upper septum fails to close after birth). These defects can lead to stroke and, in some cases, heart failure. Cardiology Associates of Schenectady proudly offers the investigational HEARTSTITCH PFO closure procedure, a novel way to treat defects in the atrial septum.
---
Other Procedures
Electrophysiology
Cardiac electrophysiologists are fully trained cardiologists with subspecialty training in the diagnosis and treatment of heart arrhythmias. We have three highly experienced cardiac electrophysiologists with expertise in advanced electrophysiology procedures including:
Pacemaker implantation
Defibrillator (ICD) implantation
Ventricular assist device (VAD) implantation
Implantable loop recorder
Arrhythmia ablation of supraventricular tachycardia, atrial flutter, atrial fibrillation, and ventricular tachycardia
Interventional Cardiology
Interventional cardiologists are fully trained cardiologists with subspecialty training in cardiac catheterization and other invasive cardiac procedures. Cardiac catheterization is the use of a thin, flexible tube inserted into an artery or vein for the diagnosis and treatment of certain cardiovascular conditions. Our five interventional cardiologists are highly experienced in performing the following minimally invasive interventional cardiology procedures:
Angioplasty to open a clogged blood vessel using a tiny balloon.
Stent placement to keep a blood vessel open. Our cardiologists perform coronary artery stenting, as well as minimally invasive procedures to open arteries in the legs and neck.
Chronic total occlusion angioplasty and stenting. This minimally invasive procedure can treat angina and chest pain in severe coronary disease, when other interventions have not been successful.
Venous ablation of lower extremity veins to treat edema and leg pain.
---
Outpatient Consultation
Our cardiologists also work with patients to provide comprehensive, general cardiovascular care on an outpatient basis. This includes cardiovascular disease prevention, risk factor management, and management of heart and vascular disease with medication. In addition to general cardiology, we offer subspecialty outpatient care including our:
Valve Clinic (consultation for complex valvular disease and structural heart conditions)
Vascular Medicine Clinic (consultation with a board certified vascular medicine specialist for complex vascular medicine conditions)